World Record Endurance Runner
"Do it for the fun, it doesn't matter if you can first or 100th"
Emma Timmis is a British long-distance runner living in New Zealand. Her endurance adventures took her to many places around the world and holds several world records. Aside from endurance running and adventures Emma works as an artist and also wrote children books.
🎨 Emma's main profession is being an artist
🏆 Holds 3 Guinness World Records
48h Treadmill Word Record
New Zealand 🇳🇿
Jul 2023
Breaking the World Record for running 48h on a treadmill: 340km
World Record Running New Zealand
New Zealand 🇳🇿
Dec 2021 - Jan 2022
Running to Stirling Point, Bluff from Cape Reinga. The exact record is set at 20 days, 17 hours, 15 minutes and 57 seconds, running just under 2,100 km.
New Zealand 🇳🇿
Apr 2021
In the 24 hours of running covering 183.33km, raising funds for "youthline"
Crossing Australia on a Elliptical Stand-Up Bike
Australia 🇦🇺
Aug. 2017 - Nov. 2017
World Record for longest ride on an Elliptical Bike (ElliptiGo): 7952km across Australia.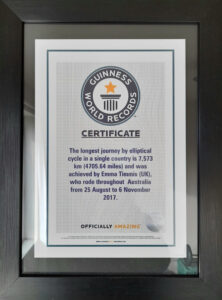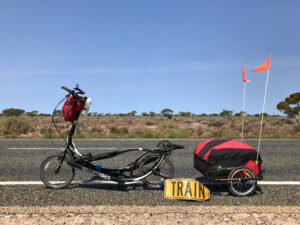 Rollerskating across the Netherlands
The Netherlands 🇳🇱
May 2015
Rollerskating seven days and 210kms from Overdinkle to Ijmuiden
Solo 670km Australian Alpine Walkin Track
Australia 🇳🇵
Mar. 2016
24 days of hiking solo of the 670m Australian Alpine Walking Track.
Running 2400km Freedom Trail
Worldwide 🌎
2011
First female to run the length of the 2400km Freedom Trail in South Africa, which spans from Durban to Cape town, approximately. It took 57 days.
Running Across Africa West to East
Namibia 🇳🇦
Aug 2014 - Dec 2024
Running 89 days and 3,974km from Atlantic Ocean at Henties Bay, Namibia to the Indian Ocean at Pemba in Mozambique