New record climbing "Island Qualifiers"
On Vancouver Island
Joshua Prahl & Leum Elvins
Climbing 9 peaks in less than 3 weeks
We aim to break that time and set an unofficial new record, aiming to be completed in less than 21 days. Although it would be technically feasible to complete this project in under 15 days we are building in a bit of extra time for weather and rest days. Also, in order to get the full value of the experience, not all of the peaks will be climbed via the easier routes but rather we will attempt full summit traverses and technical climbs on several of the peaks. All told this project will cover roughly 165km of mountain trails and glaciers with sections of technical climbing ranging from 4th class to 5.10-.
What are the Island Qualifiers "IQ"?
Vancouver Island on British Columbia's west coast is not often associated with rugged mountains and glaciers but several mountain ranges that run the length of the mountain provide much excellent mountaineering and alpine climbing objectives.
In 1977 the Alpine Club of Canada created a list of 9 peaks on Vancouver Island that were designated as graduating peaks for juniors members to complete in order to become senior members. A junior member was required to climb 4 peaks to become a senior member. Criteria for peak selection was as follows:
the need for continual belaying (class 4 plus), at least several pitches;
the need for glacial travel with appropriate rescue gear in place on the rope and the knowledge of how to use it;
the need for an overnight camp en route, in an area lacking any facilities or campground development;
the lack of any established trail or route markings except those of the approach trail (unroped portion of the route, if you like)
The list of the nine peaks chosen, and in order of difficulty:
Mount Colonel Foster 2134m
Rugged Mountain 1847m
Warden Peak 1975m
Elkhorn Mountain 2194m
Golden Hinde 2197m
Victoria Peak 2159m
Nine Peaks 1847m
Mount Harmston 2009m
Mount Septimus 1940m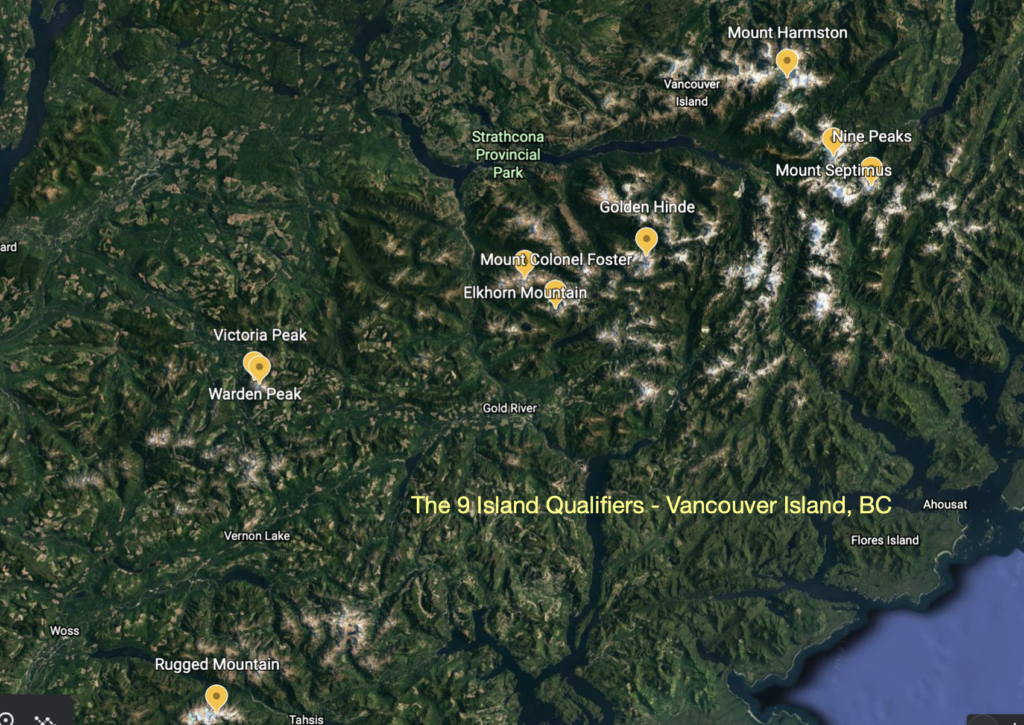 It was noted that the nine island peaks listed were all above the timberline and all had glaciers and snowfields of varying sizes, all are climbed by their easier routes while most of the more difficult ridges and faces were unclimbed at the time of writing.
The first person to complete the entire list was Rick Eppler, in 1986 and thus the Rick Eppler Island Qualifiers Award (IQ) was created.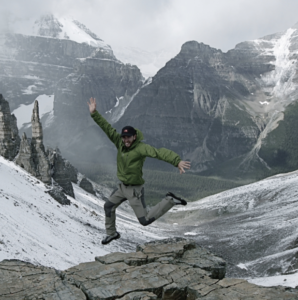 I currently live on my boat in Powell River, British Columbia and work in several different industries all over the BC coast, as a commercial scuba and surface supply diver. In 2008 I went to college to study to become an Adventure Guide and since then I have worked in a variety of tourism and public safety industries, including as a cycle touring guide, ski patroller, rope access technician, outdoor educator and forest fire fighter.
I've completed numerous ski traverses, been on climbing trips on several continents, bicycled from Canada to Mexico, and circumnavigated Vancouver Island in a small sailboat.
I am a passionate outdoor adventure enthusiast who gets to travel to remote coastal locations for work and seek the mountainous coastal backcountry on my time off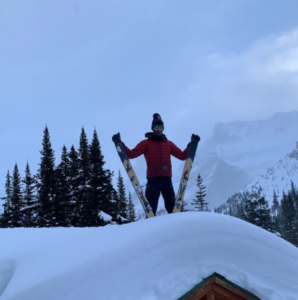 I live with my partner in a 26' tiny home 30 minutes north of Courteney, BC. I work for my own company as an arborist getting to climb our huge coastal trees, I am also a member of the local Army Reserve unit and have just completed my basic training.
I grew up in Victoria, BC and in 2010 I left Vancouver Island and moved to the interior to spend my time in the lush BC mountains. Here I learned to work and play in the mountains as a tree planter, Ski patroller and Wildland firefighter.
I've done numerous back-country ski trips, climbed all over BC, Skied in the bottomless powder of Japan, and surfed all over the world. I've also recently taken up paragliding and am excited for where that will take me. I'm motivated by the adventure itself, being in nature with another human who enjoys the awesomeness of being dwarfed by nature is an incredible feeling.
Read more about Joshua & Leum
All World Explorers Collective expeditions
by clicking "Sign up" you agree that the World Explorers Collective can use your email address to contact you and use your data in accordance with EU data protection law