In a wooden canoe on the mightiest river in the world
Torben Landskrone started in the border area between Colombia and Brazil to reach the Brazilian city of Manaus, more than 1600 kilometers downstream, under his own power with a wooden canoe on the mightiest river in the world. But a canoe in the middle of the Amazon offers little protection...
Unexpected challenges before the start
I arrived in Brazil in late April and faced two challenges. It turned out that foreigners need a permit to navigate the Amazon, which I would not get in time. Also, it was difficult to find a suitable canoe, because I needed a roof structure to which I could attach my hammock. It took me a week to find the right canoe and the problem of legality was solved by setting out without a permit.
A positive surprise, however, was that shortly before departure I met Rob, an Englishman, who also wanted to canoe the Amazon. Surprised by the coincidence we decided to start the trip together and I now had a companion.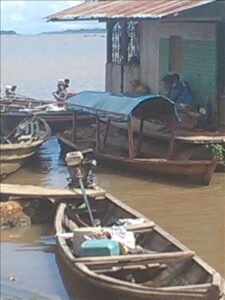 Dangerous wildlife, nature and people
There are many dangers on the river. But the most prevalent are those caused by weather and humans. Often we got caught in heavy tropical storms and one night we were so badly caught by a storm that we threatened to capsize and were finally forced to sleep flat in our canoes in a reed field surrounded by caimans - one of the most difficult nights.
Even though almost all the people we encountered were helpful and friendly, it only takes one malicious person to bring untold disaster.
One day a small motorized boat stopped next to us, guns were pointed at us and pirates robbed us and took all our belongings - including our paddles, leaving us adrift on the Amazon, unable to maneuver and without equipment, and now dependent on the help of the river people...
The often 3 to 4 kilometer wide river does not become less impressive over time, but you get used to paddling for hours and crossing the enormous river.
We ate provisions, which we replenished about every 5 days in smaller settlements. We cooked on a gasoline stove - because gasoline is available even in the most remote place in the world.
I slept in a hammock, often stretched on my boat but also on trees in the forest. Rob had a tent, which in my opinion was a wrong choice. Because the forest around the river is always flooded, especially at this time of year, and so Rob often just had to sleep in his canoe.
However, we often managed to sleep on the lonely plots of individual families, who hospitably took us in.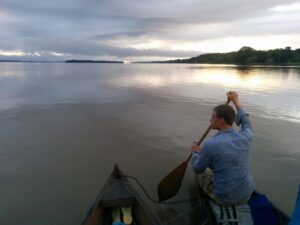 Why to embark on such an adventure?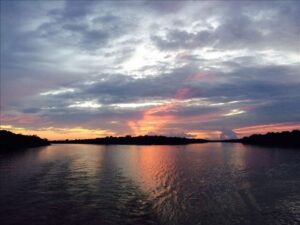 The Amazon is the most impressive area on the planet, but this dreamlike rainforest is highly endangered. And everyone who can create attention saves a small piece of the jungle. However, one should definitely prepare for the absolute worst case scenario. Also, you should plan several months for such a trip, because the Amazon is big and little goes according to plan...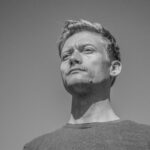 Torben Landskrone was born and raised in Germany and currently resides in Copenhagen, Denmark. In 2016 he set out to start the journey into the Amazon.
Apart from being a curious traveler, he is the initiator of the World Explorers Collective, to enable other adventurous minds from around the world to embark on their own adventures and expeditions.
Torben Landskrone has described his journey in the book: "Journey into the Amazon: In a wooden canoe on the mightiest river in the world"
Available in German and English as ebook and paperback on Amazon and selected markets
Download maps and equipment lists, Torben has used on his trip
All World Explorers Collective expeditions
Sign up to stay updated on new adventures
by clicking "Sign up" you agree that the World Explorers Collective can use your email address to contact you and use your data in accordance with EU data protection law