Crossing Antarctica by bike. Many have tried, all have failed.
Kate is an Australian explorer and adventurer who has cycled a distance greater than twice the world's circumference. On August 16th, 2010, she made history by becoming the first person to cycle an unbroken line from Africa's most westerly to its most easterly points, covering a distance of 22,040 km over ten months in her Breaking the Cycle in Africa Expedition. Her aim was to draw attention to the development needs and activities of poverty-stricken and war-torn nations.
In addition to cycling through twenty countries, Kate's mission was to discover how these nations can be helped to improve their situation by giving them a "leg up" rather than a "handout." Her travels have led her to achieve two other world firsts, including the Trans-Siberian Cycle Expedition in 1993 and the Great Australian Cycle Expedition in 2004/05.
Kate has been recognized for her achievements, having been awarded the Medal of the Order of Australia (OAM) in January 2023 for services to adventure sport, and receiving an Honorary Doctor of Education degree from The University of Western Australia in March 2016 for services to education and community. She is a Fellow of the Royal Geographic Society (UK), a member of The Explorers Club (New York), an Honorary Advisor for the Duke of Edinburgh's International Award, and a Scout Ambassador. Her expeditions have been designated Official Activities for the United Nations Decade of Education for Sustainable Development (UNESCO).
Kate's latest adventure is the Breaking the Cycle South Pole expedition, which will culminate in the first bicycle crossing of the Antarctic continent via the South Pole in 2023.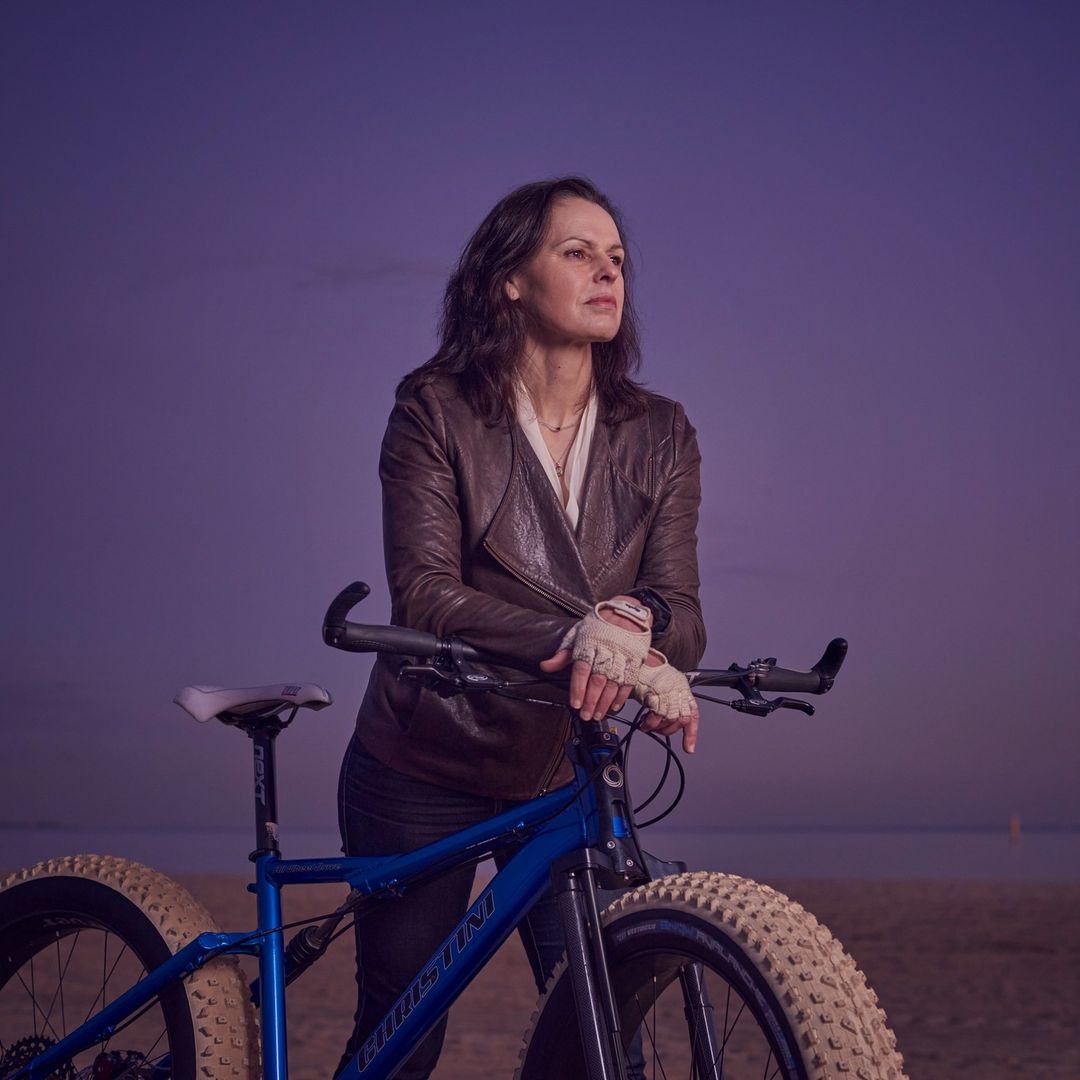 At true first - Crossing Antarctica
To cross Antarctica by biking, she has been preparing for this challenge by completing polar expeditions in various locations across the globe since 2018, with the aim of inspiring future leaders to make informed decisions that will create a better world.
No one had ever done that. Many tried but all failed
Not only did she prepare in polar regions, such as Greenland or Norway, but also in sandy deserts. She became the first woman to cross the famous and extremely dry Canning Stock Road in the Western Australian outback by bike.
Sand and snow can be very similar. It was actually in the sandy deserts of Australia that made me realize for the first time that I might as well be able to cycle across Antarctica.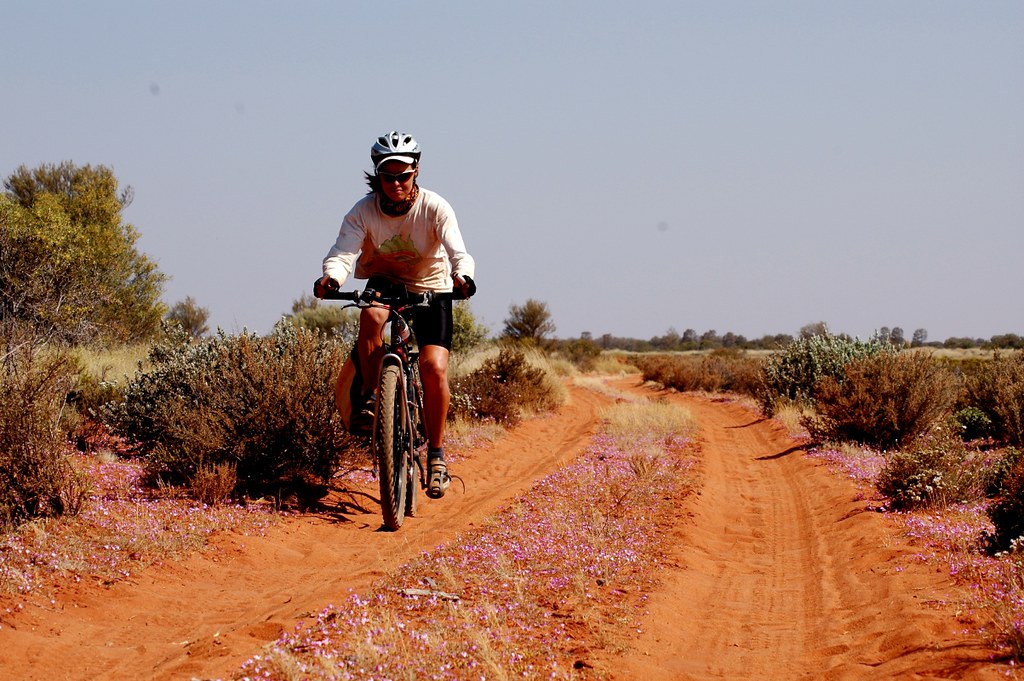 Three consideration are essential for Antarctica crossing
Route Options
There are two possible routes for the journey to the South Pole. The first option is the shortest and simplest, covering a distance of 1800km from Leverett Glacier on the Ross Ice Shelf, proceeding 650km to the South Pole, and then continuing for 1150km to Hercules Inlet on the Ronne Ice Shelf. However, the preferred route covers a total distance of 2800km and starts from McMurdo Sound. This route involves crossing the Ross Ice Shelf to Leverett Glacier.
Antarctic Conditions
Antarctica is known as the coldest, driest, windiest, and highest continent on Earth. Kate will experience katabatic polar winds as she pedals towards the South Pole, which has an altitude of 3000 meters. On her way back to the coast, she will generally benefit from a tailwind. The terrain will vary, ranging from firmer compacted snow on the South Pole Overland Traverse (SPoT) between McMurdo Base and the South Pole, to icy sastrugi sculpted by the wind, and the most dreaded surface for a cyclist: 'bottomless' soft, dry snow. Crevasses are most common on the edges of the Antarctic plateau and around mountain ranges. Temperatures are expected to range from -15C to -40C in the most extreme conditions
3. The innovative Bike
Kate has been pushing the development of a first all-wheel drive fat-bike, custom made clothing and the communications strategy. Especially the bike is key component, as only because of an all-wheel drive bike she is able to maneuver the snow desert. The bike has been put to test - and it works!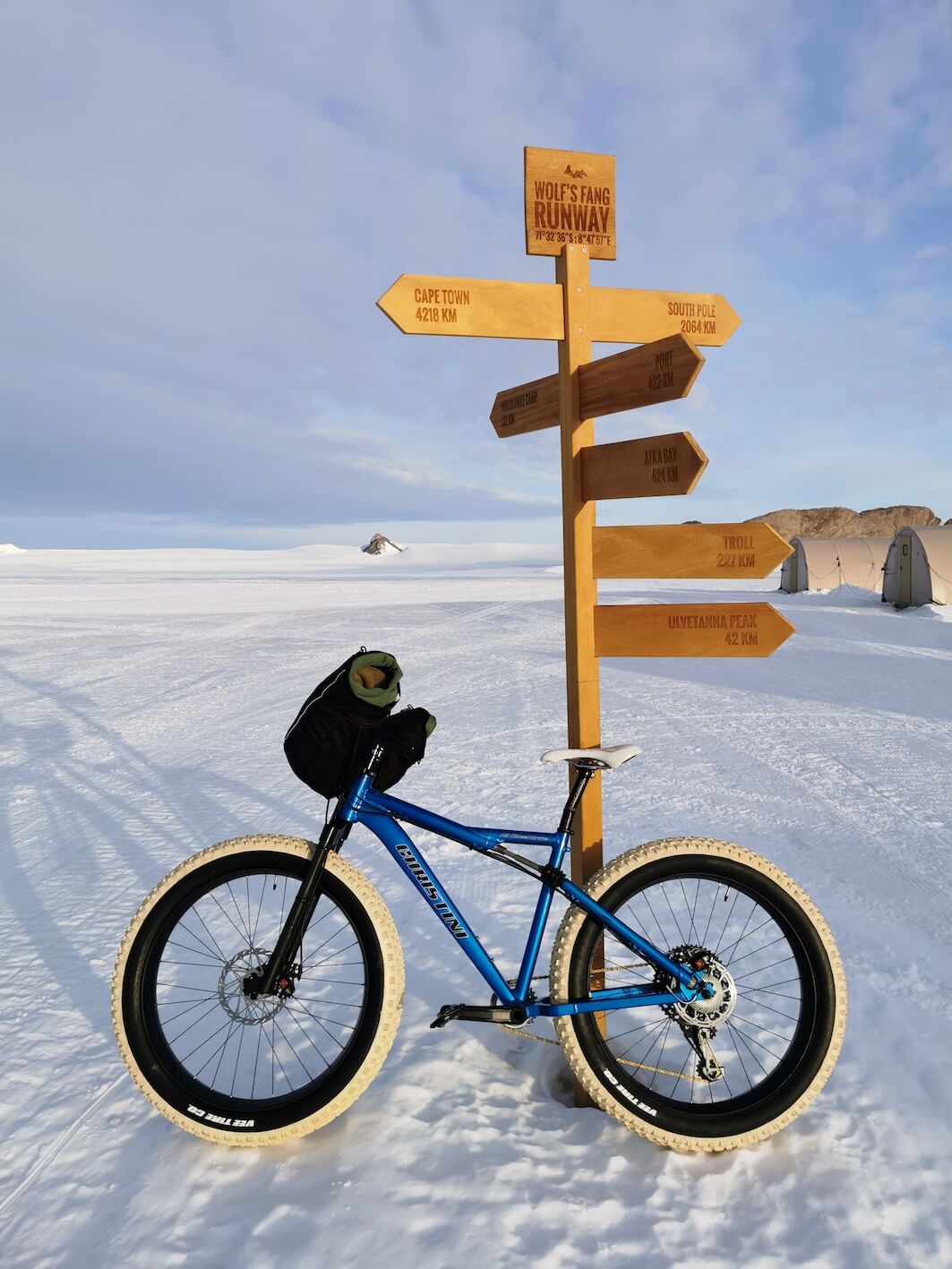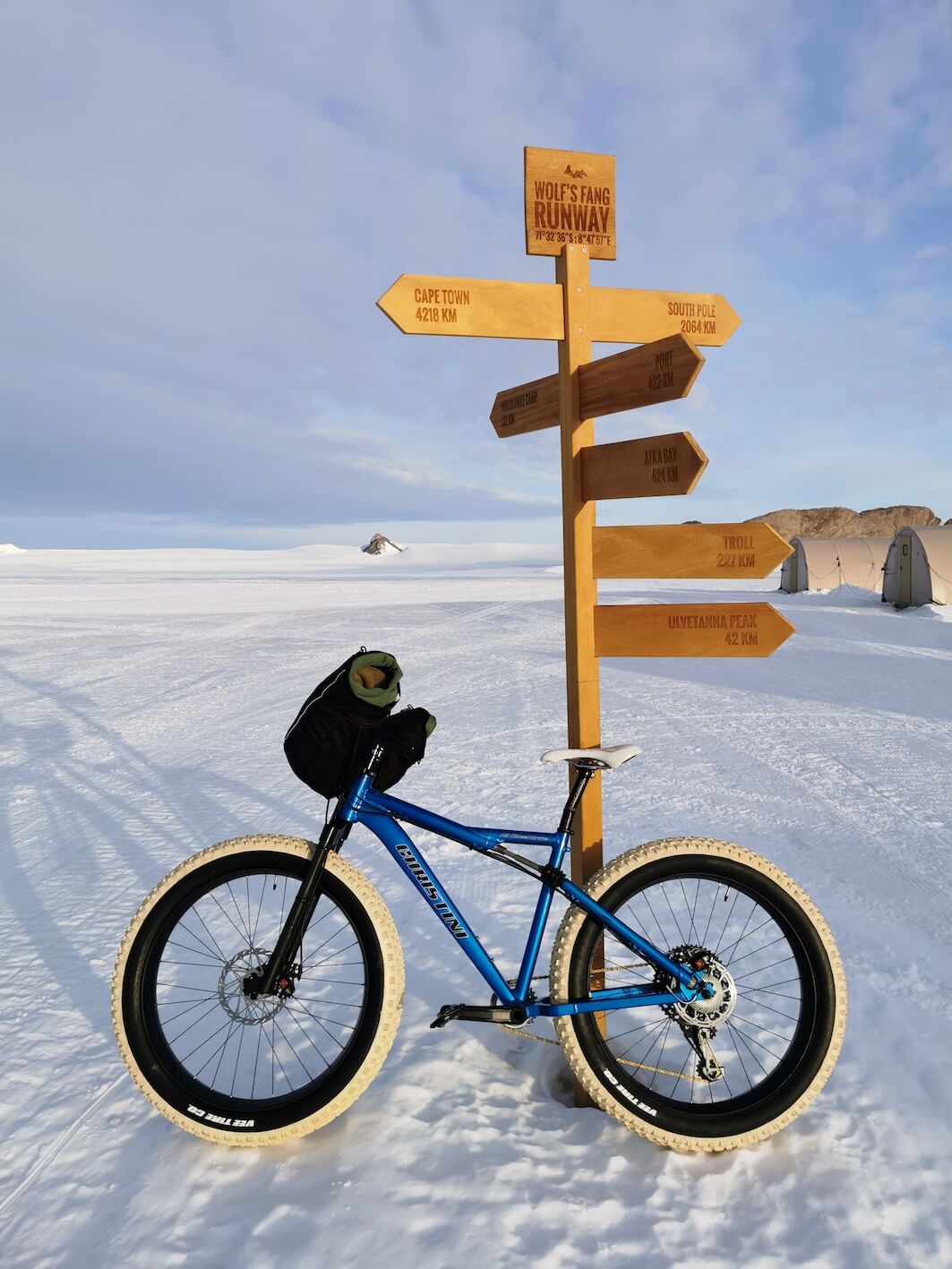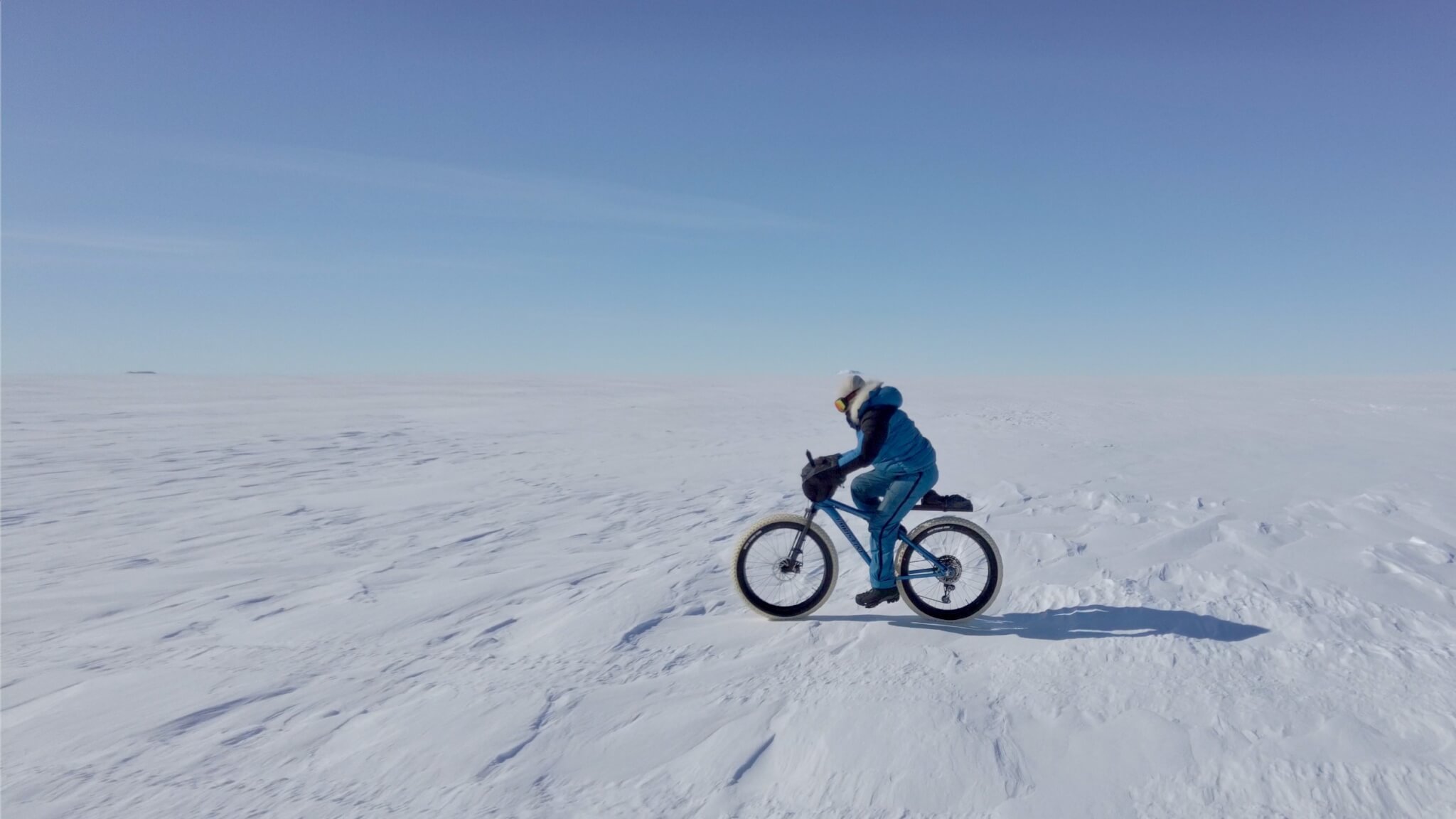 An adventure in itself as preparation
As a preparation for the huge Antarctic journey made her last big preparation trip. And where to better do that than in Antarctica itself.
She set out - and just came back - from am about week long preparation ride. She biked across Queen Maud Land, located on the outskirts of the Antarctic Plateau, starting from Wolf's Fang Camp to Whichaway Camp.
Before leaving Kate said:
There is no track here. We will navigate using a series of waypoints between White Desert's two camps. Due to the existence of crevasse fields, I will cycle with the protection of an Arctic Truck support vehicle, tethered to it in the danger zones. This is a totally bespoke expedition, no one has ever done this journey by bike before
She completed the incredible and over 200km long journey in 5 days
Kate Leeming has been a guest on our Podcast "Art of Adventuring"
We talked about the dangers and the beautiful moments of all her travels, and how resilience is the most important ingredient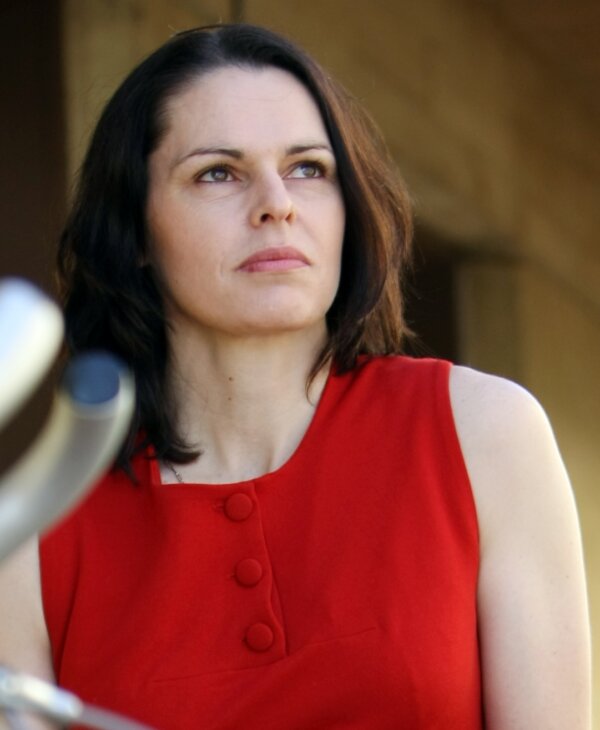 Kate Leeming is an Australian explorer and adventurer who has cycled a distance greater than twice the world's circumference.
She now sets out for her new adventure to cross Antarctica cycling.
by clicking "Sign up" you agree that the World Explorers Collective can use your email address to contact you and use your data in accordance with EU data protection law